Automotive BDC or "Business Development Center" is a department within a dealership whose purpose is to convert leads and phone calls, into real-life or in-person shoppers for a dealership. Just like any other business, a dealership has a sales funnel. It looks something like this: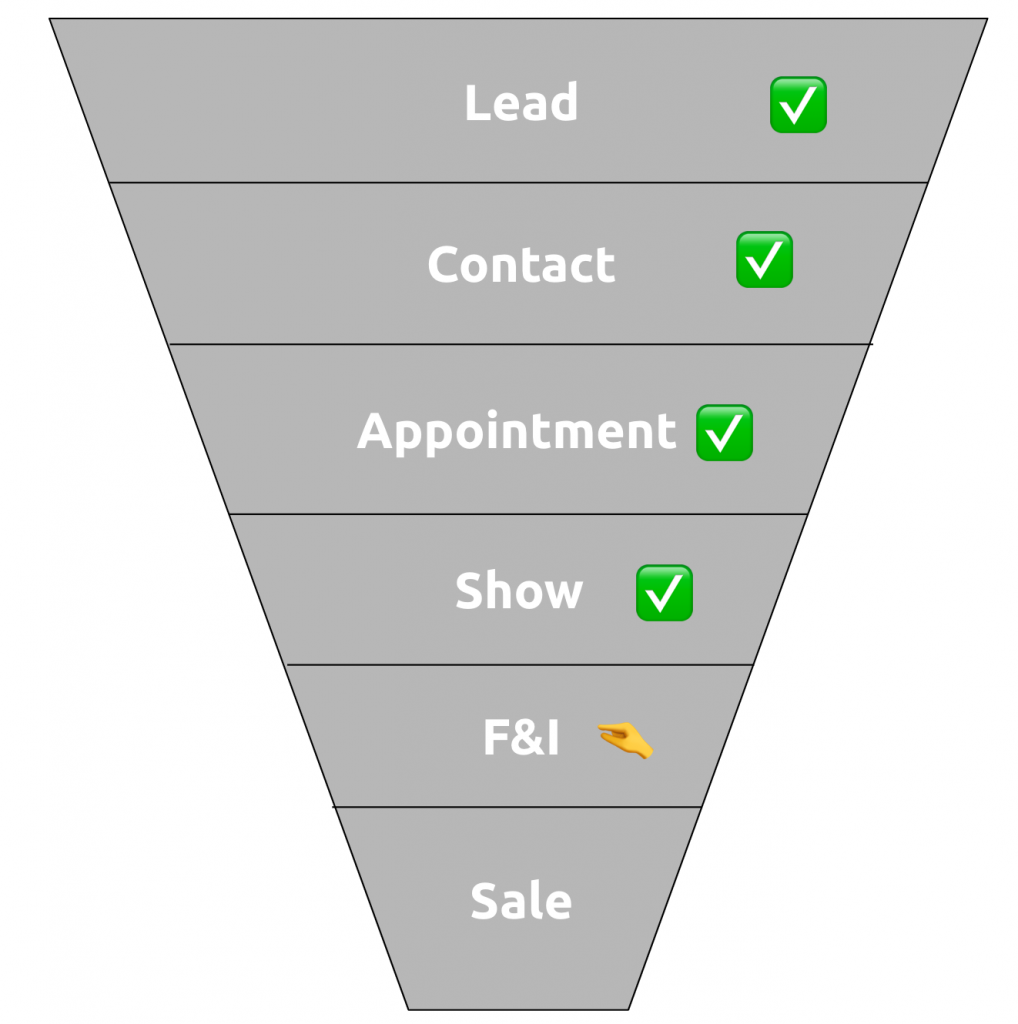 At the top of the sales funnel is the contact stage, where a BDC receives a fresh lead. At this stage, it's time to reach out to that prospect. BDCs are usually instructed to CALL fresh leads as quickly as possible. Calling a prospect in under 5 minutes increases the chances of connection by four times. If the automotive BDC gets the prospect on the phone it's their job to qualify and set an appointment for the dealership. This moves the prospect down the funnel, closer to sale.
Qualifying a prospect into a shopper requires a couple of pieces of information from the automotive BDC. It's imperative to develop a relationship with the prospect at this point. This is your dealership's first touch in the journey leading them towards a sale. By providing a great experience and keeping the conversation at a high level, you can accomplish all you need to in less than 7 minutes.
Sales BDC Outline Template
Meet and Greet
Vehicle Of Interest
Incentives
Trade-In
Financing Details
Ask for the Appointment
By following this flow, you'll maximize alignment with your prospects and minimize wasted time. Automotive BDC can really prime the pump for a dealer sales team by following the above flow. When we're asked to come in and help revamp a Dealer's sales BDC process, a lot of time the fact is they don't have a high-level plan of what they're trying to accomplish. By sticking to, and ensuring that these things are collected, the dealer sales team will be able to deliver relevant experiences to the incoming shoppers, and they should be able to knock it out of the park.
With this sort of process, we find it maximizes the synergies between your BDC and Sales teams. Often times we see a conflict between the two teams when they really should be playing off one another. We'll make another post on how to create BDC pay plans to maximize bottom-line sales.
In the meantime, we hope this post helped you understand what an automotive bdc is and how it works within a dealership.